Clínica das Conchas' training responsive newsletter (a case study)
Newsletters are fundamental communication tools for companies and Clínica das Conchas relies in Grow Under to create it´s training Newsletter, in a responsive format, since 3 years ago.
Clínica das Conchas had the need to publicize training
Clínica das Conchas Club is defined in its website as "a clinical performance health facility that interconnects the Departments of Medicine, Exercise and Physical Therapy" in the sense of the "maintenance, rehabilitation or recovery of their users' health".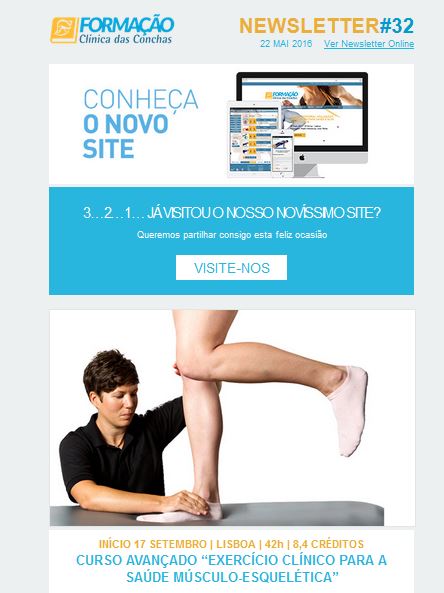 This "health promotion" is not just about the "diagnostic screening" and the "therapeutic intervention". It also covers training, both for "at-risk individuals" and for "clinicians who accompany them".

In this context of action, Clínica das Conchas needed to publicize news about their training offers in order to maintain the target audience aware of the latest promotions in terms of specialization courses.
Why a newsletter?
Newsletters are indispensable tools for companies' communication strategy, once they allow the usual contact, through email, with the target audience. Besides, they enable the flexibility of contents and the targeting of recipients.

They also facilitate the results evaluation, allowing to measure precisely who opened them, who clicked on their content and who purchased the promoted products / services.
Grow Under developed a customized and responsive newsletter
Answering Clínica das Conchas business needs and strategy, Grow Under came into play designing it´s training newsletter.

The partnership has started in 2014 and we are already in the second version of this communication tool that uses email to strengthen a profitable business.

Take a look at the most recent version of the design template developed from scratch by Grow Under to Clínica das Conchas, inspired by their aesthetic: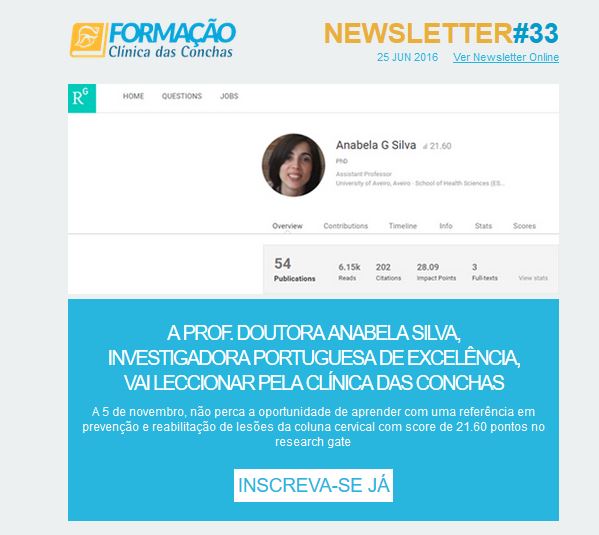 This is a responsive newsletter that fits all display formats, from desktop computers to laptops, from tablets to smartphones. Nowadays, when the mobile Internet already is an unavoidable reality in people's lives, this is an increasingly pressing demand.

Clínica das Conchas team sends the content in a briefing format and then, Grow Under professionals make up the Newsletter Training and present its final version to the client.
Analytics tracking code
It should be noted that all relevant links in the newsletter have an Analytics tracking code that enables to measure click rates (the ratio of users who clicked on a link to the total number of users who see the email).

This tracking code is the best way to evaluate conversions, that is, the actions that it is intended that the users who receive the Newsletter execute. Thus, it also enables to calculate the return on investment.
Do you think Google Analytics is too complicated? We can help you measure results and redefine your strategy for success.