IMTechnic: a multilingual website in Joomla with Video Editing
Grow Under developed IMTechnic´s new web page, betting in a multilingual website in Joomla with Video Editing to optimize communication and SEO for Google.
IMTechnic, a company in the Engineering, Inspection and Maintenance areas, has just launched its new website - http://www.imtechnic.com/ - which was designed and developed by Grow Under.

In this project it was possible to complete all the defined goals with the creation of a multilingual and responsive website in Joomla, with easy and quick access to the fundamental contents and a modern and appealing design.
Company specialized in activities in height
IMTechnic is a company that acts in the Engineering, Inspection and Maintenance areas, performing Inspection services, Audit and Facilities, Structures and Equipment's Maintenance.

Performing activities in height, in hard to reach places, it uses highly technical and demanding methods, like the industrial rope access, that present very strict criteria in terms of safety.
The mission
IMTechnic contacted Grow Under in order to create a professional website to strengthen its corporate communication and therefore, to boost the relationship with their clients and its market positioning.

The company´s goal was to illustrate in a clear and obvious way, at the first glance, its activity area, as well as the main services it provides. With this in mind, the website was supposed to be "clean", without visual noises, showing plainly the company's actuating area.
A multilingual website in Joomla
To fulfil the presented needs and demands, Grow Under has bet in the Content Management System (CMS) Joomla due to its numerous virtues and advantages, and given its experienced team of professionals that deal with this CMS several years ago.

Besides, Joomla is a free and Open Source system, easily adaptable to all types of websites, blogs and online stores. It is a very intuitive platform that allows customizations accordingly to the needs, which makes adapting to present requirements and future management much easier.

Another relevant aspect is the ease with which Joomla allows to create a multilingual website without the need to install extra extensions. This way, besides the Portuguese, we added the English as a supplementary language, giving to the website a more global reach.
Do you need a multilingual website? We have the perfect and easy solution.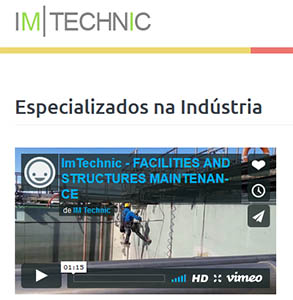 Video Editing
To show clearly the main services provided by IMTechnic, the bet was on the video as a powerful communication tool to enrich the website´s main page.

Video is one of the greatest trends of Digital Marketing for 2017, namely in what concerns little businesses promotion. Recently published stats point out that in 2019, videos will be responsible for 80% of the global consumption of the Internet.

YouTube´s success, with 3 billion searches per month, is a good example of how the videos are increasingly an unavoidable bet for the companies. Even because Google also highlights videos in its users searches - therefore, betting in videos is a also a way to improve Search Engine Optimization (SEO).

This way, to illustrate IMTechnic´s technical skills, the choice was Video Editing from raw images to create a more professional and more appealing final product.
Templates´ and images´ adjustments
The website development was also made through the templates´ adjustment to promote an intuitive visual, facilitating access to contents and the immediate understanding of the area of activity of the company.

To show in detail the services provided, galleries were created with various projects already carried out, with the selected images´ formatting and processing.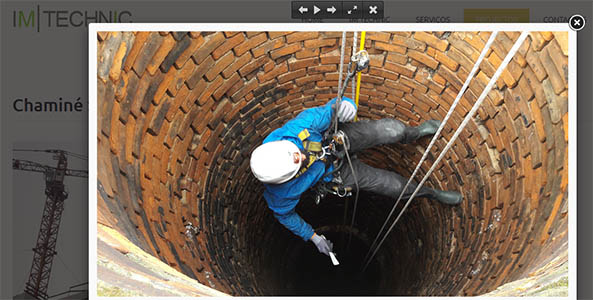 And as is a mandatory feature of the projects developed by Grow Under, it is a responsive website, adjusted to all types of screens and devices, from computers to smartphones.

As a final result, the website illustrates the professionalism and technical competence of IMTechnic's work team, acting as a good business card, and as a portfolio with the potential to attract new customers.